Neusoft Medical Systems (NMS) provides diagnostic certainty in the fight against Coronavirus
published: 2020-03-03 / Download PDF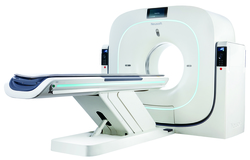 The Coronavirus (COVID-19) is now affecting 77 countries and territories around the world. With ongoing experience detecting and treating the outbreak, medical professionals have realized the critical role of diagnostic imaging in containing the spread of the virus.
A growing body of research has shown that CT is the most effective and timely manner to screen patients for the virus. A Chinese study published in Radiology suggests that chest CT should be considered a "primary tool" for COVID-19 detection in epidemic areas due to its high sensitivity. The study found that chest CT detects COVID-19 with 97% sensitivity.
The US media outlet Wired.com added to the support for CT imaging by introducing its millions of tech-savvy readers to the role of radiology artificial intelligence (AI) in the fight against coronavirus, specifically highlighting a new COVID-19 screening solution from Infervision. This AI software is one of several innovations developed from lung cancer detection models trained on thousands of images from patients with COVID-19. At present, 34 Chinese hospitals have used the software to review 32,000 lung scans for signs of COVID-19 and identify patients who may need more tests.
Fundamental to this effort is the availability of high quality CT scanners. NMS delivered 30 CT scanners to impacted areas in China within 15 days – including to Wuhan, the viral epicenter. Such rapid installation of CT infrastructure has been possible due to the Neusoft NeuThor mobile CT container. This innovative on-demand imaging suite was created to provide CT diagnostics in disaster torn areas and in the event of an epidemic. Once trucked to the site, the container is immediately ready to scan as soon as plugged in. Positioned outside hospital walls and with separate entrances for technicians and patients, NeuThor reduces the risk of cross-infection. For extra defense, the container is outfitted with medical grade ultraviolet sterilamps, which can effectively destroy the DNA and RNA of viruses, achieving disinfection between patient procedures. CT studies are transmitted with 5G real time connectivity, allowing efficient diagnosis immediately after the scan for effective quarantine, when needed.
In addition to this frontline support, Neusoft is working in collaboration with the First Affiliated Hospital of Guangzhou Medical University to explore an AI imaging alliance supported by Neusoft CT equipment. The platform can reduce the movement and workload of technicians in the epidemic area, and assist in solving the challenging problems including the spread of disease at this stage. Overall, NMS' tireless work, leadership, and $4 million USD donation in medical supplies and equipment for affected areas, has demonstrated the immense capability of the company to deliver critical solutions for its customers, no matter the challenges.