First patient of column with SRS technique with RapidArc in the I.N.N.N.
published: 2017-04-26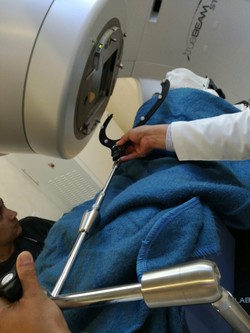 Yesterday, April 25, 2017, the first SRS (Stereotactic Radiosurgery) spinal treatment with RapidARC in the Varian brand TrueBeam linear accelerator, installed by Electrónica y Medicina S.A. At the Instituto Nacional de Neurología y Neurocirugía.
RapidArc is a VMAT (Volumetric Artery Therapy) system from Varian Medical Systems. This technology combines the advantages of Modulated Intensity Radiation Therapy with those of Arco Therapy, obtaining a very high quality of treatment in a very short time (approximately 3 minutes), and thus increasing patient comfort and levels of treatment accuracy.
This technology, also allows treatments in the fourth dimension, which in addition to making the tumor location with the traditional parameters (depth, width and length), takes into account respiratory movements, which sometimes move up to 3 cms in any direction, so Able to protect neighboring healthy organs.
With this technology the Instituto Nacional de Neurología y Neurocirugía hand in hand with Electrónica y Medicina S.A., is placed at the forefront in the latest generation treatments that benefit all Mexicans